Make an appointment NOW – just click on the Book Now button above.  No need to call or play phone tag to make an appointment.
You will be able to browse Peta's available appointments, select a time that suits best and reserve it immediately.
You can use this booking service 24 x 7.  This is a secured service and your details will be kept in strict confidence.
Appointment Booking FAQs
Can I be put on a cancellation 'waitlist' for an appointment?
The automated booking system allows you to make and cancel appointments, but does not currently have a 'waitlist' function.  When an appointment is cancelled, it immediately becomes available for any client to book.  Unfortunately Peta is unable to secure appointment times for you, and so the best approach is to periodically check the booking system to see if an appointment is newly available.
How do I cancel an appointment?
In your confirmation email and also in your reminder email, there is a link that can be used to cancel an appointment.  Just click on the link – it's that easy.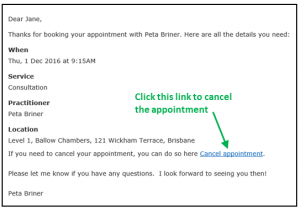 The appointment time will immediately be made available in Peta's calendar.  This will be particularly appreciated by clients who may be looking for a time around then, especially when at short notice.
How do I change my appointment to another time?
You can do this by taking the following 2 steps:
Cancel the original appointment by clicking on the

Cancel appointment

link in the confirmation or reminder email.
Then make another booking for an available date and time of your choice.
How can I be sure that the booking was successful?
How do I create an entry in my electronic diary?
There are 2 ways to do this:
On the booking confirmation page you will see 2 buttons and you can optionally press one of these buttons to add an item to your relevant calendar: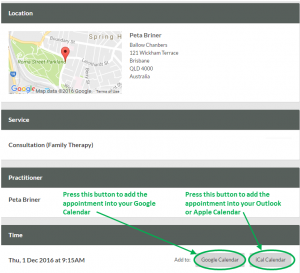 Also, in your confirmation email there is an attachment named booked_appointment.ics. By double clicking this attachment, you can add an entry to your Outlook or Apple Calendar.
Is the online booking system safe and secure?
The booking system does not reveal any personal information to the public.  Only the available appointment times are shown.
Your details are stored in a secure environment and are not disclosed to anyone other than Peta.
For the technical minded:
In terms of encryption, the Cliniko booking application transmits information securely under HTTPS and the Cliniko identity is confirmed through an SSL Certificate Authority i.e. Digicert.  Cliniko's database is fully encrypted.  The encryption keys to those files are generated, held, and encrypted themselves by the cloud providers.  Furthermore all sensitive and personally identifiable information is encrypted during transit via Transport Layer Security (TLS).
Welcome       Services       About       FAQ       Fees       Location       Contact
 B.A. B.Soc.Wk. M.Soc.Wk.